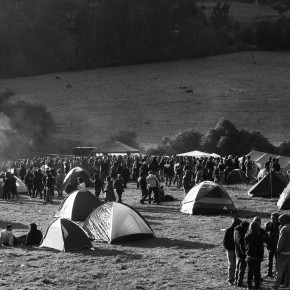 Bogotà, 16-26 February 2012
Since 2004 Bogotrax is a self made mixture of social action, street-arts and retro-avant-garde.
To present it as a festival of electronic music and culture could be a first stop in the way to a more complex strategy of social and artistic experimentation. But it could also be an easy way to consume it as a more or less wild product of bored entertainers.
Bogotrax  never abandoned his spirit both transgressive and conciliatory,  keeping intact the autonomy and independence that allowed not being a commercial or political instrument . From 2004 to 2010, has generated a real electronic district offering an example of resistance, growing and improving year after year.
Year after year, the festival joins a large number of artists from different nationalities and a selection of graphic designers, music producers, DJs and VJs of the local scene that propose inusual audiovisual and graphics experiments. It counts also with urban intervention, forums, workshops and musical performances in public and private prisons.
Bogotrax
Bogotà, Colombia
bogotrax@hotmail.com
LINK BOX