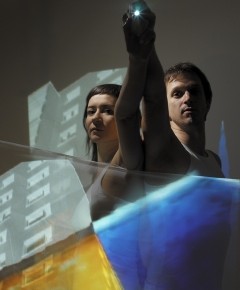 Elwira Wojtunik and Popesz Csaba Láng :: Polish-Hungarian duet of visual artists, also known as Elektro Moon Vision founded in 2004 in Budapest. Now they live in Krakow, Poland.
They design unique visual live-acts based on live experiments with the video surface, wide-format projections, mappings, audiovisual performances, interactive video-installations or video projections for theatre shows.
City, technology and mankind as individual – are the main themes they analyze. In their works own patches, mathematic algorithms and technological solutions are often used. They're Founders of Share:Krakow, unit of global organization dedicated to supporting collaboration and knowledge exchange in new media communities.
Their installations were exposed at the MuseumsQuartier in Vienna, Akarenga Soko Gallery in Yokohama, Japan and the 14. Media Art Biennale WRO 2011 in Wroclaw. Their experimental work 'NZ/X' was awarded in the frames of the Chopin Year competition by Warsaw Electronic Festival and 'Zachęta' Nationally Gallery of Art in Poland and ArtMuse in Bocholt, Germany.

elektromoon@gmail.com
LINK BOX