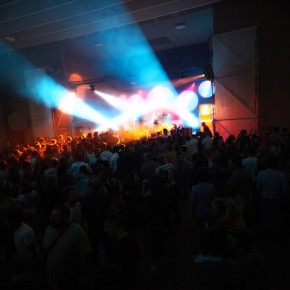 Bologna, September 27 (preview) October 10-13 2012 
roBOt – Digital Paths into Music and Art – is an international electronic music and digital arts festival that reaches its fourth edition this year.
On September 27th and from October 10th to the 13th , Bologna won't be the same. This is announced officially by the organizers of the roBOt festival, that this year reaches its fifth edition.
Through the preview of September 27 (in a prestigious location) and in the first half of October – from Wednesday 10th to Saturday 13th – in the steady site of Palazzo Re Enzo, roBOt Festival will present the results of the 2012 research on the new forms of arts, experimentation and entertainment, all of which connected to digital technologies.
If it is true that for a festival the fifth is the maturity year, roBOt gets to the heart of the preparation, studying with its head down every single detail to arrive impeccable at this important test.
Robot Festival 
Bologna, Italy
info@robotfestival.it
LINK BOX