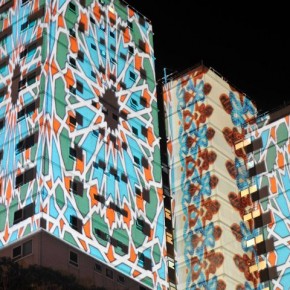 Melbourne 
The festival celebrates projection art and lets us see familiar spaces and buildings in new and inspired ways.
It's a collaborative, volunteer effort of artists and traders, residents and community groups all brought together through the Gertrude Association. Its a week in winter when can celebrate community and art.
Art, animations, digital stills and videos are projected onto the pavements, buildings and walls and other exterior surfaces of Gertrude Street. Last edition was held in Melbourne from 20 to 29 of July 2012.
Gertrude Street Projection Festival 
Melbourne, Australia
info@thegertrudeassociation.com
LINK BOX