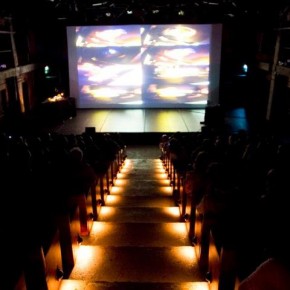 Rio de Janeiro, September 6-9 2012
The 5th MOSTRA LIVE CINEMA showcases audiovisual performances, Live Cinema, Live Images and any other artistic manifestation incorporating performance art and real-time manipulation of audiovisual elements in its presentation.
The event have become a reference among audiovisual performance artists, critics and researchers, and by encouraging reflection and interaction between Live Cinema artists and works.
Apart from showcasing what's most exciting and current in the field of audiovisual performances, the 5th Live Cinema Festival opens an experimentation space in the form of performance workshops, where artists and audience can interact and exchange information in a broader and more focused fashion.
This year, the mLC will be held in the Oi Futuro Ipanema theater in the city of Rio de Janeiro, from September 6th to 9th in 2012.
mLC
Rio de Janeiro, Brasil
contato@livecinema.com.br
LINK BOX