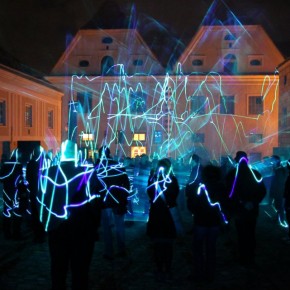 Krems, October 12-14 2012
Kontraste 2012 – Electric Shadows presents cuttingedge live performances, installations, films, lectures and sound walks.
The festival is conceived as a 'leap into the void', a voyage through the electromagnetic spectrum, with audiovisual experiments that manipulate analogue and digital signals to amplify our senses, investigate the dark, and explore cosmological unknowns.
Humans are only able to perceive a narrow bandwidth of the electromagnetic spectrum: our eyes have evolved to see 'visible light', our ears to hear sound between roughly 20 Hz and 20 kHz.
Kontraste presents these 'electric shadows' of unexplored phenomena that exist beyond our perception…manipulating, transforming, tweaking and intensifying our sense.
Kontraste
Minoritenplatz 4
Krems, Austria
info@kontraste.at
LINK BOX