#AVEvents #AVCulture #Spain #Murcia #21-23 january
MUCA / Congress of Music and Audiovisual Culture / Universidad de Murcia – Espárraga /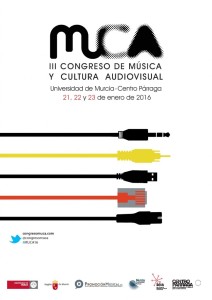 In recent years we are witnessing a true technological revolution with a global impact in all areas of society, from the various forms of entertainment to education. The technology, in constant change and transformation, marks a rapid pace that shapes our way of seeing the world, a profound reflection on new ways of apprehending reality becoming necessary.
It is undeniable that in this audiovisual world, the music reaches a leading role; this is not a silent revolution and this is remarkable if we consider, for example, the importance of music on mobile devices and communication technologies, their impact on new narrative forms in space or prominence audiovisual fiction advertising and new ways of creating, receiving and disseminating music through the Internet.
In this context, and following the success of I and II MUCA Congress III Congress International Music & Culture Audiovisual MUCA, to be held on 21, 22 and 23 January 2016 at the University of Murcia, will continue to have intended to encourage the exchange and dissemination of knowledge among professionals and researchers of audiovisual and sound universe through analysis, reflection and criticism of music and culture in recent decades.
THEMES
The themes for analysis, discussion, debate and reflection are:
-Music and film.
-Music and television.
-Music and advertising.
-Music and video games.
-Music and Internet.
-Prosumers and market
-Analysis of music in audiovisual culture.
-Music and technology.
-Digitalization, globalization and new ways of marketing.
-Teaching music in audiovisual culture.