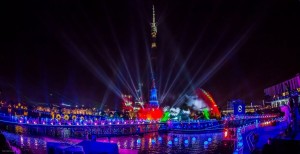 Moscow, 23-27 September 2017
The «Circle of Light» Moscow international festival is an annual event at which lighting designers and specialists in audiovisual art from various countries reinvent the architectural scene of Moscow by using video mapping.
The buildings that symbolize Russia – among them are: the Bolshoi Theatre, the Moscow State University, VDNKh, and others – transform into canvases for large colorful video projections. The admission to all festival venues is free.
THE ART VISION VIDEO MAPPING CONTEST RUNS UNDER THE AEGIS OF THE «CIRCLE OF LIGHT» FESTIVAL. IT IS DIVIDED INTO THREE NOMINATIONS:
1 CLASSIC
2 MODERN
3 VJING
There is an educational program that takes place during the festival. It includes lectures and workshops with the world class lighting designers. Educational activities are open for visitors, but the pre-registration is needed.
The organizer of the «Circle of Light» festival is the Department of Sport and Tourism of Moscow. The coordinator of the festival is LBL Communication Group.
Circle of Light – Art Vision Contest
Moscow, Russia
pr@lightfest.ru
LINK BOX