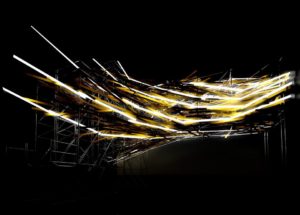 1024 architecture is a company created by Pierre SCHNEIDER and François WUNSCHEL, both co-founders of the EXYZT collective.
1024 architecture focuses on the interaction between body, space, sound, visual, low-tech and hi-tech, art and architecture…
They make audio-visual installations, micro-architecture, urban intervention, performances, exhibitions, and others…
They created (with the support of Arcadi) Euphorie, an audiovisual performance that reconsiders the guitar hero myth by replacing the old device with "neon guitars". Both intimate and surprising, Euphorie plays on the spectator experiences in contemporary theater as well as in electronic music offering the audience a brand new approach.
info@1024architecture.net
LINK BOX