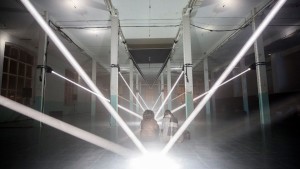 Barcelona, November 8 – 10 2018
MIRA festival will take over Fabra i Coats again for the eighth edition. There will be legendary pioneers, widely recognised stars and new artists to whom to pay close attention to.
The festival will showcase a wonderful and exciting selection of artists who will perform in several of the festival's most recognisable spaces and formats, with A/V shows, VJ sets and 3D Sound shows.
MIRA is a digital arts festival based on three connected areas: exhibition, divulgation and education, and is held anually in Barcelona (since 2011) and Berlin (since 2016).
Focused on digital culture and technology's new trends, the festival has a program where both classic and fulldome audiovisual shows, art installations, 3D sound shows, fulldome screenings, conferences, presentations and workshops can be found.
MIRA wants to make the audience feel closer to several worlds of tech creation within a digital art event aiming to become a platform for new talents as well as a showcase for world-known artists, and also create unique inmersive experiences through tech innovation and live visual plus music interlace.
Mira! Festival
Fabra i Coats, Barcelona
C/ de Sant Adrià, 20
LINK BOX