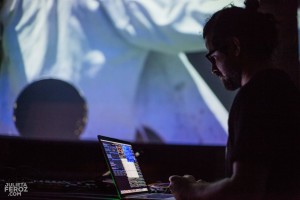 BARCELONA, 28-29 September 2018
The VISUAL BRASIL Festival will hold its sixteenth edition at Punt Multimedia, a dynamic center for multimedia projects and digital technologies, located in the Casa del Mig of the Parc de la Espanya Industrial de Barcelona.
On this occasion, they celebrate together with local and international artists a research meeting in the field of contemporary audiovisual: video art, mapping, audiovisual performances, workshops, installations, and VJs. An activity that focuses on the production of video in real time, the culture of free creation and new collaborative formats.
Visual Brasil will reinforce this year a look towards the most experimental artistic works, in this edition we consolidate a very diverse programming for the TKLAB Stage. This scenario aims to disseminate the work of audiovisual artists with more daring proposals, expanding the references of our audience.
The festival is an important hotspot to disseminate Brazilian culture and cutting-edge new media art testing the limits of contemporary art. The festival aims to highlight the quality and diversity of Latin America production, always looking for an innovative and daring.
Visual Brasil
Barcelona, Spain
rickcancado@hotmail.com
LINK BOX