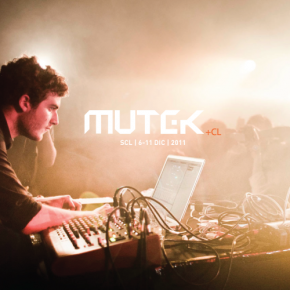 Santiago, 6-11 November 2011
MUTEK is an international organization dedicated to the dissemination and development of digital creativity in sound, music and visual art through festivals, exhibitions, concerts and workshops since 2000.
MUTEK.cl has been active in Chile since 2003, introducing new trends in electronic music and visual arts, creating a platform for promulgation, development and promoting the cultural use of public space. MUTEK.cl is a member of ICAS , International Cities of Advanced Sounds.
Those who attend to th first MUTEK.cl festival, a spectacular celebration of arts and technology, will enjoy the presentations of more than 50 guests from over 8 countries in artistic displays, live music and educational talks.
The bulk of MUTEK.cl events will take place in Gabriela Mistral Cultural Center in Santiago, Chile. Nocturnal dance party, will be held at Club La Feria, active since 1996, that has become an icon of a nice place to share and hear electronic music.
MUTEK CHILE
Centro Gabriela Mistral
Av. Libertador Bernardo O'Higgins 227
Santiago, Chile
info@mutek.cl
LINK BOX