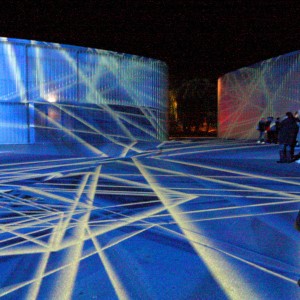 The Visual Piano is an instrument which makes it possible to create moving images in a space. It is unique and was conceived and developed by the photographer and light installation artist Kurt Laurenz Theinert in collaboration with the software designers Roland Blach and Philip Rahlenbeck.
Using a MIDI-keyboard it is possible to generate varying graphic patterns which can be digitally projected onto one or more screens. These dynamic and immediate drawings in light are not (as with VJ soft-and Hardware) generated by pre-recorded clips, but every moment of the performance is being played and modulated live and in real time via the keyboard and pedals. Form and content are of one here.
The "Visual Piano" performances explore professional contemporary artistic practice through the abstract, ephemeral medium of light, but at the same time they are consciously located in close proximity to the genre of "serious" entertainment.
info@theinert-lichtkunst.de
LINK BOX