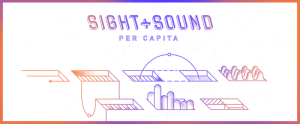 Montreal, 28 September – 2 October 2016
Sight & Sound is an annual festival aimed at bringing together Canadian and international new media artists. It's organized by Eastern Bloc, Arts Center based in Montreal.
Sight & Sound is a festival of rich exchange between you and thirty some events, installations, performances, workshops, round-tables and conferences that celebrate digital art in Montreal.
PER CAPITA will highlight one of the most rapidly growing socioeconomic phenomena, that of the sharing economy, or collaborative consumption. The 2016 edition will explore the ways in which artists contribute uniquely to the debates and issues surrounding the sharing economy.
Sight & Sound wishes to critically approach these issues and encourage a collective reflection on the sometimes obscure dynamics underlying these phenomena and the impact of these on our lives and social relations.
Sight & Sound 
Eastern Block, 7240 Clark,
Montreal, QC
info@easternbloc.ca
LINK BOX