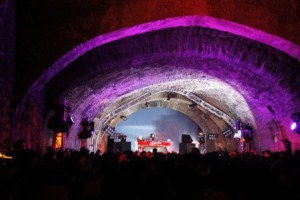 Mexico City, 22 – 26 November 2017
MUTEK is an international platform for the dissemination and development of digital creativity in sound, music, audiovisual arts and immersive technology.
Its mandate is to provide a platform for the most original and visionary artists currently working in these fields, with the intention of providing a space of initiation and discovery for audiences.
A renewed sense of purpose and mission drives the design of the 14th edition of MUTEK in Mexico City, running November 22 to 26. Constantly rethinking and remodelling the festival as a vehicle for varied and revelatory experiences, the trajectory of this year's programs are intended to create a distinct narrative and provide an opening on the more adventurous sides of electronic music and digital creativity.
Expect new spaces, unprecedented artistry and novel sensations as MUTEK embarks on another unique journey to bring its community and the world together.
Mutek Mx
Mexico City, Mexico
gjaramillo@mutek.mx
LINK BOX