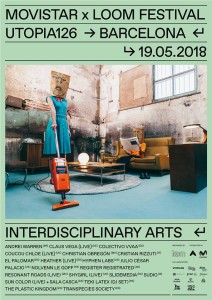 Barcelona , 19 May 2018
Interdisciplinary art festival 'LOOM' presents a panoramic view of Immersive Art by means of performance, audio-visual and interactive installation.
In the era of Big Data and Connected Individualism the audience will be transported into a fictitious world blending the lines between artistic disciplines simulating Utopia, Dystopia, Futurism, Technology, Control, Freedom, Reality and Fiction in a contemporary landscape. Ten rooms will be transformed into an interactive path through Utopia126​.
Comprised of works from over twenty artists belonging to different disciplines, and sponsored by the cultural patronage platform Artsy by Movistar​, the first edition of Movistar Loom Festival will take place on the 19th of May 2018 in the installations of the modernist factory Utopia126​ located in Poblenou, Barcelona.
Movistar Loom Festival ​was the winner of the Artsy Festival 2017 contest and has been developed by Loom Collective​. With headquarters in Barcelona, the platform and multicultural-interdisciplinary collective was born with the intention of promoting Barcelona's artistic underground scene.
MOVISTAR LOOM FESTIVAL
Barcelona, Spain
collectiveloom@gmail.com
LINK BOX