Sharjah Light Festival illuminates the Emirate once a year showcasing local talent and internationally renowned audiovisual artists.


The audiovisual event features eye-opening displays of colors, images and lights inspired by a variety of subjects such as beauty, science, creativity and knowledge.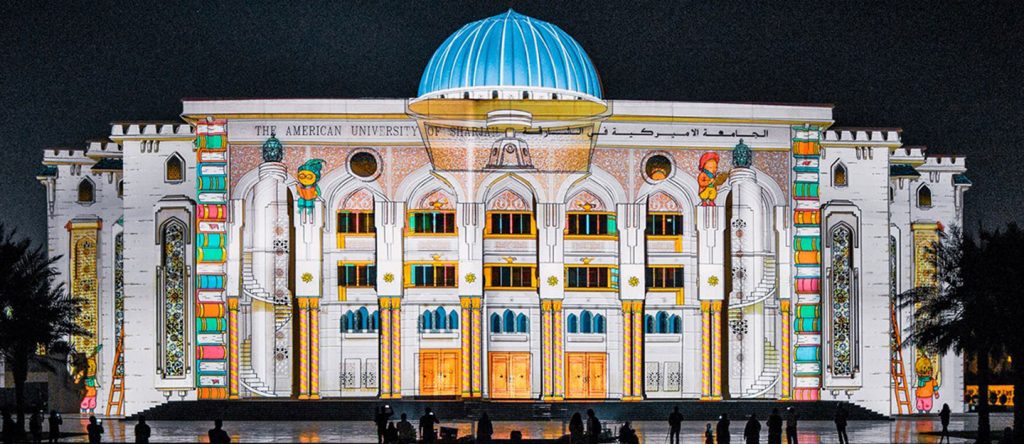 The yearly festival attracts hundreds of thousands of visitors and takes them on a tour of cultural heights, music, artistic ingenuity and technical skills. Projection mapping artworks and lighting installations illuminate the beautiful architecture of Sharjah.


The festival fuses all the components of beauty, art, culture, education, innovation and higher thinking into one glorious event.
It includes rich programmes, grouped into clusters based on up to 20 locations with new highlights every year showcase the architectural splendour of Sharjah and the beauty of its buildings.
Utilising creative and innovative light technology and specifically curated music, the architectural landmarks of the emirate, such as Al Noor mosque, Al Hisn Fort, Sharjah University City Campus as well as others can literally be seen in a new light.


Many of the designs are poetic and inspired by local culture, stories and traditions or incorporate nature and space, some are based on more modern art and design, all are beautiful and thought provoking.
The Sharjah Light Festival extends to the east coast towns of Dibba, Khorfakkan and Kalba. The 2019 edition featured well known artists and curators such as Larent Langlois, Cindy Lo, Studio Halpeji and Group F