"An Interdisciplinary art festival 'LOOM' presents a panoramic view of Immersive Art by means of performance, audio-visual and interactive installation. In the era of Big Data and Connected Individualism the audience will be transported into a fictitious world blending the lines between artistic disciplines simulating Utopia, Dystopia, Futurism, Technology, Control, Freedom, Reality and Fiction in a contemporary landscape. Ten rooms will be transformed into an interactive path through Utopia126​"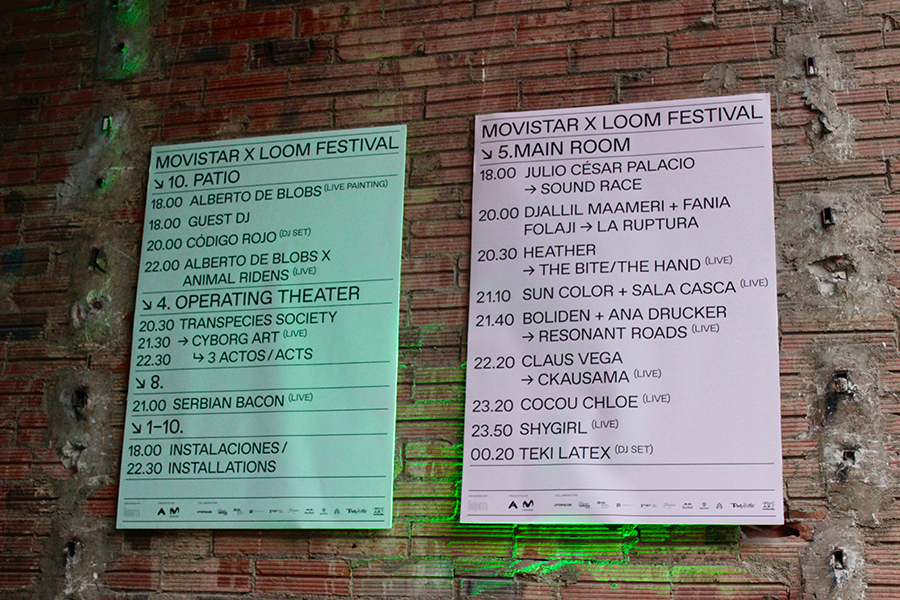 Movistar Loom Festival ​was the winner of the Artsy Festival 2017 contest and has been developed by
Loom Collective​. With headquarters in Barcelona, the platform and multicultural-interdisciplinary collective was born with the intention of promoting Barcelona's artistic underground scene.
On first entering the festival, held in the arty Poble Nou neighbourhood of this cosmopolitan city, we were greeted by some rather shiny figures and lights beaming down from the ceiling. We realized that this was not going to be like the usual Barcelona Festival scene.
Loom festival had an interesting balance between performance art, installation and visuals, as well as the usual food trucks and DJs that we're used to seeing. The interesting part about the festival for us was the way that some of the usual concepts were broken, such as musical spaces where the DJ on the stage at one end of the room was finally broken – obvious, but lacking on the Barcelona creative scene. El Palomar provided us with an interesting demonstration of five trans/non-binary people carrying banners – a first for us within an art festival context, which was both surprising and refreshing as an idea.
Daniele Bonnici's technological alter was all to familiar to us, in this digital age, a reminder of how we have developed as a culture faced with technology, as it begins to take over every daily task that we know. What will this alter look like in 20 years to come? We hate to think, but this was an excellent representation of the overall eeriness of the festival's concept of dystopia.
The Plastic Kingdom, perhaps the most easily identifiable installation/performance had a very clear message. A clear story of pollution and nationalism, a powerful political message is conveyed through the use of performance art in a way that is thoroughly engaging to all ages – the disasters of our oceans presented with a pinch of LOL.
And just when we thought that they didn't have it covered, the icing on the cake was the representation of Cyborg art, with the participation of Neil Harbisson – 'a Catalan-raised, British-born cyborg artist.' If you have never heard of this guy, you'd better do your research, because he is living proof of the powers of technology. The first person to have an antenna implanted in his head is said to have information sent to him such as measurements of electromagnetic radiation, phone calls, music, as well as video or images which are translated into audible vibrations.
What better way to end our experience at the festival than through some live digital painting to music through local artist, Alberto de Blobs.
Slidemedia 'Aleph' – 3 panels with an audiovisual hologramatic installation, multi-screen and multi-layered.
Photography & review by Hayley Cantor – www.hayleycantor.com