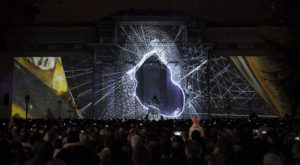 Onionlab is a multidisciplinary studio. They create interactive products and experiences, motion design movies and audiovisual shows for companies that want to be related to technology, design, and art. Their works are based on the aesthetic attention to detail and the technical innovation.
Starting from graphic concepts and detailed ideas, they get lost in the development and find themselves again at the resolution. They usually make use of the power of scripting and the seduction of music and sound design. They are interested in learning in each project, that's why they invest many hours researching. They like collaborations.
Music is a source of inspiration for them, and it is often the starting point of their work. VR (virtual reality) experiences, projection mapping, stage design, and music videos are some of the formats through which we relate to music.
To celebrate the bicentenary of the Prado Museum, on November 24th, 2018, Onionlab projected a video mapping organized by the events agency Ciudadano Kien on the facade of the building. The video mapping transformed the inert facade of the building into something organic thus creating an immersive visual journey of lights, shadows, and optical illusions.
LINK BOX