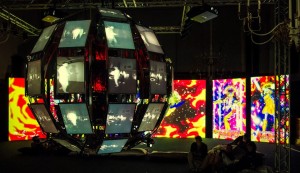 ENSCHEDE, September 6-9 2018
The free festival for creative technology, science, media, art, music and more celebrates its 15th anniversary this year.
This year GOGBOTs theme will be FUTURE FLASH 200, From Frankenstein to Hyperbrain. During the festival, we flash 200 years back in time to the year 1818, when Mary Shelly wrote her novel, Frankenstein. This story meant the birth of the cyborg. Now, two centuries later, they scan this theme critically with an eye on the future, where our world is quickly moving forward to artificial intelligence (A.I.), robotics and human enhancements.
GOGBOT challenges. To an opinion, an idea or a different view of the world. Their gaze reaches beyond life, beyond the earth. GOGBOT is the showcase of the future, born from their evolutionary thoughts. They envisage that future in a constantly innovative shell of beautiful insanity.
GOGBOT is not satisfied with normality. During events, curriculums and in their partnerships, they compete with the status quo. GOGBOT does that through art, music and creative technology. They show the effect of innovations on our society through the eyes of the world's most talented artists and artists.
GOGBOT is Enschede in extremes. It is the breeding ground for creative technology and innovation and is meaningful for the entire region. Their goal is to lift our environment, in collaboration with education and business. Their greatest motivation is the adaptability of people to their environment. The unknown stimulates the senses. Those who know how to adapt, survive.
ADAPT OR DIE.
Gogbot
Enschede, Netherlands
contact@gogbot.nl
LINK BOX