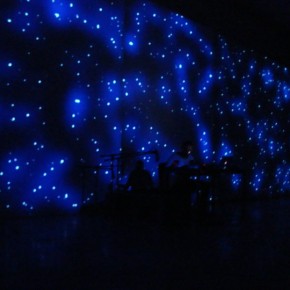 Buenos Aires, March, 8-10 2012 
Panoramica is a platform of exploration, research and reflection on the real-time audiovisual arts, collaborating in the construction of the Audiovisual-scape.
The festival aims to display and investigate the contemporary media scenery of Latin America; based in Buenos Aires, at the Espacio Fundación Telefónica, Panoramica presents exposition, concepts, environments and techniques of real-time visual arts in its different variants.
Panoramica 2012 will be formed by 5 sections: JAM (Open Screen Freesyle), SET UP (Audiovisual live set on real time), MIXER (Searching a better Audiovisual-scape), MOTOR(Sofisticated tools of the future), Satelites_panorama (Network, Streaming, Collective Knowledge).
Panoramica
Espacio Fundación Telefónica,
Buenos Aires, Argentina
info@panoramica.cc
LINK BOX