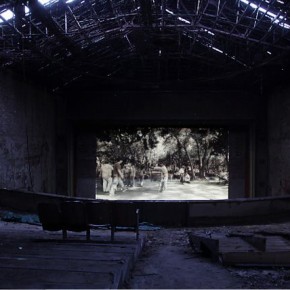 Halle, October 5 – 21, 2012
Mexico has attracted the attention and imagination of generations of Europeans, At the same time, Europe has long been an important point of departure for cultural developments in art and design.
The invited artists from .move forward set out to explore their host country's culture. The varieties of formats the artists use reflect the diversity of contemporary media art: From video and interactive installations to internet based works and performances.
The particular media is not the most salient feature; the themes the artists chose to deal with are as various as the formats and include city and country, religion and science, tradition and migration, globalisation and climate change, tactical and technical media, reality and the virtual, anarchism and the capitalist appropriation of revolutionary icons.
The artistic projects realised by the Mexican and European stipend awardees will be shown during the Werkleitz Festival at the exhibition .move forward – new mexican and european media art in Halle (Saale) from October 5 – 21, 2012.
.Move Forward
Schleifweg 6, 06114
Halle, Germany
project@werkleitz.de
LINK BOX