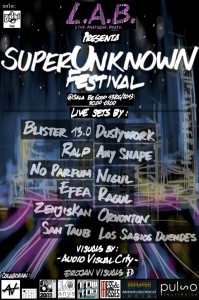 Barcelona, June 13 20-3h (Sala BeGood)
L.A.B. [Live Analogue Beats] presents: Superunknown Festival // Sonar Off Special Event. 
For the Thursday, 13 of the Sonar week L.A.B. attempts to make visible the electronic scene of Barcelona focusing on the live acts of several musical styles: the Downtempo, Giltch, Dubstep, Experimental, Dub, Techno, Ambient … without losing sight of the concept of the platform itself, proposing hybrid live acts, between analogue and digital.
Audiovisual City, will be in charge of the visual, presenting  the sixth edition of the Jam Session AV: To Bit Or Not To Beat, together with Drojan.
live.analogue.beats@gmail.com
LINK BOX