The 13th of april in Razzmatazz ( Barcelona) we had the enjoyable opportunity to receive the producer and performer of electronic music Aaron Funk with the stage name of Venetian Snares. Mira festival and Miles Away were the responsible for carrying out the surprising 3D visuals of Eyesberg.
The show started with a live perfomance of the electronic artist Ralp, that created a modular synthesizers set with an opened configuration to the improvisation. In this case, Devide, a Barcelona studio, was the one in charge of the audiovisuals, creating minimalist graphics with special geometric forms inspired in black and white.
https://www.facebook.com/Ralp-110743788937344/?fref=ts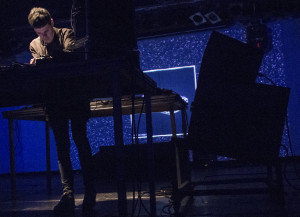 Then was the turn of the amazing Venetian Snares. The canadian artist composed what he does best: IDM, breakcore and glitch. He had just edited Traditional Synthesizer Music (Time Sig) and this was the first time he did an analog live performance. Funk has recordings in albums edited by discographic firms like History of the future,Isolate/DySLeXiC ResPonSe, addict, Sublight, Low-Res, Hymen, y Planet Mu.
The creative laboratory Eyesberg (Barcelona) designed a 3D show generated in real time synchronized with music, mixing generative art and video megaloops. We had to watch it through special glasses to appreciate with a higher intensity the 3D effect.
https://www.facebook.com/vsnares/?fref=ts