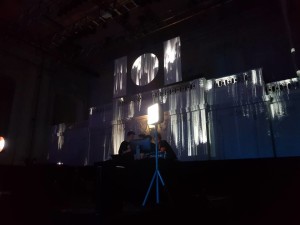 VIENNA, April 09-17 2015
In 2015, the sound:frame festival focuses on the physical coexistence of performers and spectators in a certain space and at a certain time. Over the course of six days sound:frame presents an international program featuring LIVE showcases, performances, and labs.
The theme of this year's sound:frame festival promises much excitement: LIVE puts a spotlight on the experience of synchronous listening and viewing. The transient and unique nature of the moment is at the core of the festival.
In April, sound:frame will transform the city into a hotspot for the international visual art scene. Major players from the creative industry will meet in various locations around Vienna in order to exchange ideas and to expand their network. sound:frame is indispensable for the art scene – both in Vienna and in Europe – and for the audience – the heart and soul of this year's edition.
sound:frame gained public recognition with its festival format and its function as a beacon for the arts. Since its inception in 2007, it was thus able to establish a worldwide network of audiovisual and interdisciplinary artists and experts. With its power of attraction, the sound:frame Festival has helped Vienna to become a capital of audiovisual art. Since 2017 sound:frame continues the maintenance and proliferation of its comprehensive network with the inauguration of sound:frame projects.
Sound:frame
Vienna, Austria
office@soundframe.at
LINK BOX