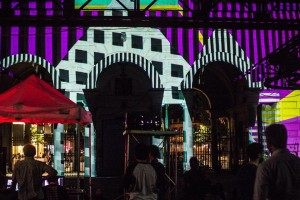 ROME, 7-10 June 2018
Born in 2004, with the aim to answer to the need for creating a space-temporal referential field where to meet, know each other and share vjing related experiences, LPM is now an international meeting dedicated to artists, professionals and passionates of veejaying, visual and live video performance.
LPM offers the unique opportunity to experience 4 days of audiovisual performances, VJing, workshops, panel discussion, product showcases presented by more than 400 artists, professionals and video passionate from 40 countries presenting over 150 projects who will offer an unrepeatable and unique event.
LPM considers the experimentation a cornerstone of its ideology, and all the recovered funds are therefore allocated to finding the most desirable and innovative technologies to support the event and the research in the live visual field.
The event features a full program of live video performances open to the public, applied in combination with the most varied forms of artistic expression, and a number of initiatives particularly for guests of the meeting.
Program foresees more than 150 activities and aims at exploring different themes through new audiovisual languages, techniques, and technologies, i.e. workshops related to Live-Coding, LED mapping and stage design for events, gestural control of music and bodily musical performance; presentations of platforms, tools, locals VJs communities from 5 different continents, a conference on AV Audience Development; video installations related to politics and cultural ensemble, interactive cameras catching and transforming bodies and faces in animated gif, personal and metadata tracing, and many more…
Thanks to the contribution of the European Community, in the latest years the LPM project was brought aboard, to produce many foreign editions as in Xalapa (MX), Minsk (BY), Mexico City (MX), Cape Town (SA), Eindhoven (NL) and Amsterdam (NL) in addition to those held Rome (IT). Since 2004, we hosted more than 4600 artists, 2625 amongst performances, workshops, and showcases, recording an overall amount of 72 participant countries and welcome more than 1.500.000 visitors.
LPM is produced and organized by Flyer Communication, Linux Club and FLxER.net, thanks to the cooperation of important international partners.
LPM
Amsterdam, Netherlands
info@liveperformersmeeting.net
LINK BOX