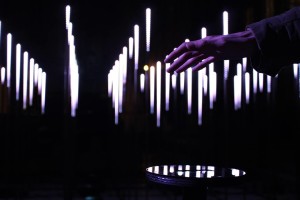 Chevalvert is a visual design studio co-founded by Patrick Paleta and Stéphane Buellet in 2007. Based on an open, multidisciplinary and cross approach of design, Chevalvert studio reaches and conceives projects without a priori, where the form serves the idea.
The realizations of the studio are shared between institutional, cultural and industrial orders and self-initiated projects. The knowledge and expertise of the studio bring a cross-perspective on the problematics approach and allows relevant and coherent answers in each area of graphic design.
The studio gives the same importance to each project. Regardless of its size, commitment and quality requirement remains the same. Throughout its various collaborations, Chevalvert has established a solid network of graphic, type and product designers, web developers and scenographers, all experts in their own fields.
More than ninety metal totems gradually turn on and off at the request of the visitor. Simply moving your hand over a special control panel and interactive light installation Stratum wakes up to life. From the simple gesture of the viewer, it becomes a sophisticated light play.
The Stratum project is created by Chevalvert Studio, with the contributors: Stéphane Buellet, Arnaud Juracek, Patrick Paleta, and Julia Puyo Calvo. The technical development: Hémisphère – Chevalvert. And the production: Mirage Festival –  Dolus & Dolus.
LINK BOX