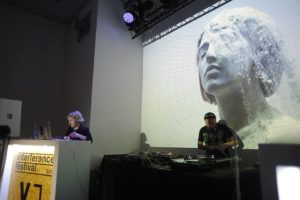 GDÁNSK, 13 December 2018
'Interference' literally means meddling, intervention, disturbance.
Interference Festival 2018 – 5th Festival of Visual Communication, it's a one-of-a-kind event in the Pomeranian District which the main target is to popularize visual arts. The festival is focused on international short visual forms' overview and on the Contest 'Freedom of Form' which the main aim is to emerge the best artists in categories Found Footage, Music Video, Creative Advertising Piece, and Experimental Short Visual Form
Visuals, music videos, teasers, creative advertising forms, jingles and video art, experiments on the border of art – that is what you'll see during one of the most interesting events of the kind in Central Europe. Interference Festival equals a new, unconventional form of the open-minded festival in which one the most important aim is to discover and to look for the best video avant-garde artists.
Last but not least, there is VJ Battle coming during which the best 8 Vjs will compete on the screen. The main festival points during the fifth edition of the festival will be at the Academy of Fine Arts, Pionowa Gallery, and the Gdańsk Shakespeare Theatre.
Interference 
Gdańsk, Poland
info@interferencefestival.com
LINK BOX