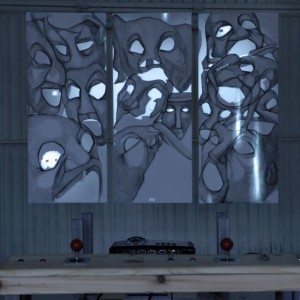 Milano, October 26-27 2013  
Playing The Game is a free public event focusing on conversations between independent games and different cultural expressions like art, music and design. This second edition of the event will be held in Milan (Italy) during the weekend of October 26–27 2013.
The event will feature the projects Bosch Art Game, Brush Chronicles and Will Love Tear Us Apart, all showcased to the audience with freely-playable installations and a schedule of official presentations held by the developers themselves. Saturday will see the presence of a special guest: OVOSONICO, that will show to the public the original artworks of Murasaki Baby.
During the event will be presented the interactive video mapping Demons' Revenge, a multi-player installation based game, which mixes projection-mapping techniques with "traditional" wall painting. The game is deployed in a physical environment; the virtual elements of the game interact with the real space creating a exceptional illusion. With this game, we take it a step further by using 3D real-time interaction.
The game consist of a large-scale mural representing the fantastic world of Bosch's paintings. The mural is mixed with a real-time projection adapted to the represented world. Several players interact with the space following the logic of an old-fashioned arcade game.
Playing the Game
Santeria, 8 Via Ettore Paladini – 20133
Milan, Italy
playingfestival@gmail.com
LINK BOX