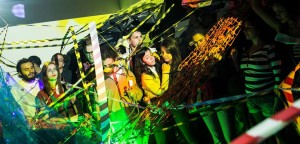 Rio de Janeiro, August 6-10 2015
Sponsored by Oi and RioFilme, the Live Cinema Festival (LCf) readies for its eighth edition in 2015, furthering its mission of presenting the latest trends in real-time audiovisual art, while simultaneously connecting traditions, innovation, experiments and studies. This year, we move beyond the now-traditional showcase of audiovisual performances at Oi Futuro Ipanema, also setting up shop in the Odeon Theater  for a Robert Henk special gig.
In Brazil, as in every part of the world, Live Cinema follows a trend which was sparked in the early 2000s, with the VJ persona (a visual DJ) playing a fundamental role in its development and pop culture integration.
From '80s music videos on MTV to the VJs' audiovisual remixes in the '90s and 2000s, what we have seen and experienced since then weren't necessarily new, but rather updated ways to see and experience audiovisual expression, and through the use of available technology and techniques, they have stormed into our lives in a way that would've previously been inconceivable.
Today, Live Cinema gathers artists such as filmmakers Francis Ford Coppola and Peter Greenaway, multimedia artists such as Canadian Herman Kolgen and Japanese names such as Ryoji Ikeda and Daito Manabe, and even Brazilians such as HOL, Bruno Vianna and Duo N-1 which, through the development of their research, works and thought processes, point ahead to the creation of a new form of audiovisual art which transcends the medium, as well as time and space.
LCF
Rio de Janeiro, Brasil
contato@livecinema.com.br
LINK BOX