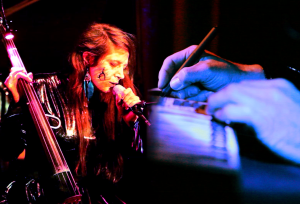 LYM is a couple of European artists from France and Denmark, who explores the association of free hand drawing through interactive digital graphics with augmented electric cello and urban and organic soundscapes. Ambitious, beautiful and inspirational, LYM performance opens the way to new approaches for live digital graphics where the graphic artist can combine imaginative graphical expression with instrumental music performance.
Lola Ajima's soundscapes build on urban or industrial sounds and transform them into calm and intimate sound layers. Her cello/bass strokes sculpt melodies and sounds about birth, loss, fear, tenderness, and sadness.
The emotive graphics of Yukao Nagemi reflect a world of fantasies, dreams, and inner visions. They combine amorphous human shapes with strange creatures and ornamental strokes and follow the line of the sound improvisation. He uses cellular automata associated with particles to build deep visual textures which enhance the expressivity of his hand-drawn graphics.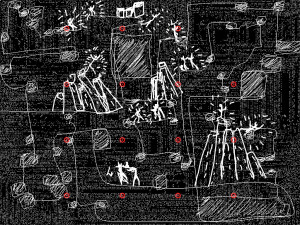 Performances of Lola and Yukao Meet are an opportunity to discover the drawing machine. Based on a versatile environment for fluid interactive digital drawing, and programed on graphic board, the drawing machines project free hand drawing in digital performances. They offer new perspectives to the combination of instrumental music and live graphics in which the graphical artist's status is similar to a musician because he can freely co-improvise with his musician partner.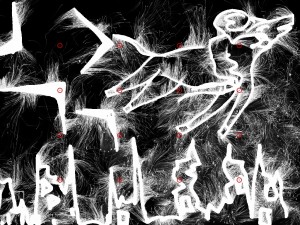 "LYM" it's a project born in 2011 as a  live audio visual compositions based on voice, cello, loopstation and digital compositions, and live graphics on tablet or paper combined with digital effects based on particles and cellular automata.
They have already developed the 5 audio-visual projects: NINE (9), City Walk #1 Paris, d-cONT, alKemi, generative nights.
generative nights is an exploration of a dark urban world in which humanity struggles with infinitely replicating micro-machines. Their growths and bursts are hypnotic and scaring. Based on cellular automata, generative nights is a unique experience of mechanical audio and graphical patterns. The visuals and sounds are synesthetically coupled by equipping the visual display with sensors. They capture the "light" on the surface and convert it into sounds according to their positions on the display. These sounds are used as a texture for developing warm vocal melodies and rhythmic chanting, a reminiscence of deep urban traditions.
alKemi offers a regenerating journey haunted by the symbols of alchemy. After a fall into the abyss and the invitation to a dance macabre, the onlooker encounters an ambivalent cold and hot, aerial and aquatic, solar and lunar mermaid. The piece terminates in a sky ascent accompanied by angels and festive dances. The music and the lyrics offer hypnotic and enchanting atmospheres in tune with the eye-cathing graphics mixing ancient symbols with digital augmentations.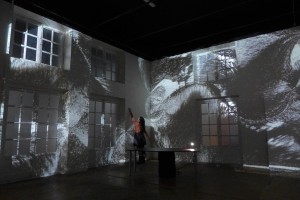 Lola and Yukao Meet also collaborate with the artists' duo Scenocosme for the indoor mapping immersive and interactive installation La Maison Sensible (The sensitive home) in a room stuffed with sensors like the human tactile system. Through La Maison Sensible, the built environment is not considered any more as a dead object. Because of its very intimate relationship with its inhabitants, La Maison Sensible makes visitors experience a room as a living organism which requires attention, support, observation, empathy…
generative nights from Lola and Yukao Meet on Vimeo.
LINK BOX