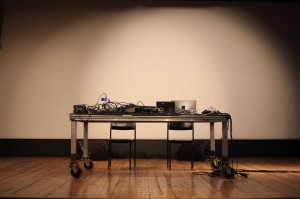 The seventh edition of Mutek festival in Barcelona opened its doors this year to many different kinds of electronic music expression this year, accompanied by quite a diverse range of visual styles.
DAY 1# A/VISIONS Institut Frances
The Institut Frances usually serves as a great starter for the rest of the Mutek schedule, providing two performances, this year the first was by Edu Comelles, followed by a sound and visual experience by Franck Vigroux and Kurt D'Haeseleer with their project 'Centaure'.
Edu Comelles
Edu Comelles performance, more that a visually stimulating show, was a more ambient, environment, whereby the artist coaxes the audience into an almost meditative state. He uses the full screen to project a glass of water, with subtle camera movements to create a space for concentration directed much more at the audio than visual experience. Many of those in the audience closed their eyes after just a few minutes to absorb the sound in all its beauty.
Franck Vigroux and Kurt D'Haeseleer – Centaure
If anything could be in more opposition to Edu's performance, that of Centaure had to be it, with basslines that vibrated in the chests of the spectators and a dynamic, fast-paced visual projection including everything from geometric forms to images of Christ, and faces seemingly suffocating in plastic. A provocative show both musically and visually speaking, not to missed.
Photos by Hayley Cantor
Day 2# A/VISIONS 2, Barts Teatre
Day two saw a change of location to the majestic Bart's theatre, in the heart of the city, with a further A/VISIONS session and two quite contrasting performances once again.
AFLOAT, Nev. Era
A project composed by Nev.Era and the pianist Albert Catalá.
Afloat is rich, organic visual performance that truly transports the audience into nature, accompanied by an ambient electronic jazz sound. The project takes full advantage of the potent projector in the theatre and invites the public into the sea and forest scenes projected. The image quality was exceptional.
Photos by MARTA MINGUELL
Photos by Hayley Cantor
Bugge Wesseltoft, Henrik Schwarz & Dan Berglund – "Trialogue"
Some of them we found to be quite remarkable, such as the musical fusion of Bugge Wesseltoft, Henrik Schwarz & Dan Berglund with their project "Trialogue", which, whilst went unaccompanied by visuals, was a spectacle in itself as the three artists engaged in a seemingly complex and intimate musical dialogue live on stage. The performance really saw boundary pushing in terms of the presentation of the union of a wide variety of music genres.
On Thursday we could see in Barts Club the A/Visions 2 program which included impressive artists like Nev.era with his project "Afloat" and  On friday the program took place in the Old factory of Estrella Damm where "Experience 1" could bring us the opportunity to listen to exceptional artists like Adeline in the Intorno lab or Pole & MFO, Shigeto and The Orb in the Parking area.
The three generate a music dialogue mixing jazz, classic music and electronic music.
Photos by MARTA MINGUELL
Day 4# EXPERIENCE 1, Fabrica Estrella Damm
Intorno Lab
Photos by MARTA MINGUELL
Adeline
She merges into deep house and dance floor consciousness.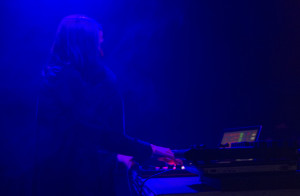 INTERMISSION, Shigeto 
Zach Saginaw hasn't found his next step yet, and takes its title quite literally. This last EP it's a transition between ideas and inspiration. He said these songs aren't a strong message, he's teaching himself a new language.
The Orb
Founded in 1988 by Dr. Alex Patterson and Thomas Fehlmann. The Orb is considered one of the most representative group of Uk electronic music since the 90's. Strong references of futuristic and atmospheric electronic music.
For more information:
http://www.mutek.org/es/spain/2016/schedule#day-2016-03-17
http://www.residentadvisor.net/dj/adelinesupreme/biography
http://ghostly.com/artists/shigeto