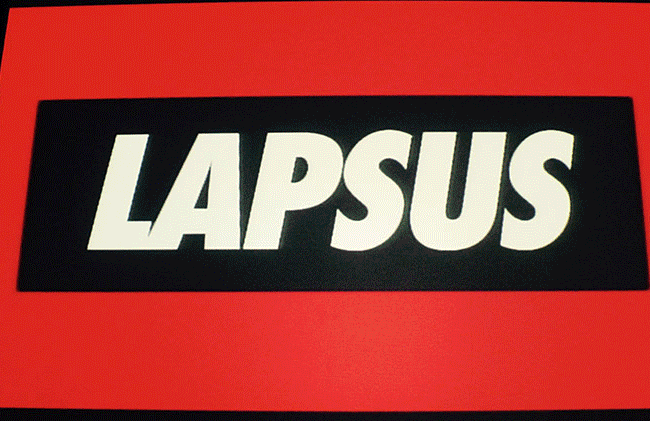 Photographic Reportage and Review, by Hayley Cantor (VJ AYL)
This year Audiovisual City attended the festival LAPSUS in Barcelona for the first time to check out the audiovisual offerings (and a little bit of the music too). Lapsus consists of three branches of musical activity including Lapsus Radio, record label, Lapsus Records and annual festival held at the Centre of Contemporary Culture in Barcelona (CCCB).
Unsure of what to expect for this 3rd edition of the festival, we went armed with camera to see what audiovisual treats we could find. Unfortunately we weren't able to last the full 12 hours of the festival (one of the down sides of organising an all-dayer) but we think we probably caught some of the best bits.
The festival venue was divided very well, with three main spaces that consistently offered similar personalities throughout the day: the main hall, theatre and outside space. The main hall was well allocated to the more up tempo techno artists with more dancable sets such as the likes of F-On & Urtzi, and Lanoche, whereas the theatre was quite rightly reserved for more experimental sounds, with many spectators lying on the floor to enjoy the ambience. Each location was equally assigned with a visual counterpart, with the festival relying on 3 big local visual artists to support the audio pros: In da cratz, Mau Morgó and Slurp TV.
Visuals by In da Cratz
In da cratz is an artistic duo formed by Miki Arregui (Videocratz) and David Sala (Lectrovision) who filled our eyes with a wide range of stimulating live video performance throughout our time at Lapsus on Saturday. Between them, they provided an excellent combination of styles in order to adapt to each and every one of the artists performing in the central hall, with everything from more abstract effects through to some incredible city travel shots filmed in Hong Kong, including Wang Chai Station. Never before has an audiovisual performance given me such a strong desire to travel before and was reminiscent of Filastine's visual performance with street scenes of Barcelona's Raval neighbourhood.
F-On & Urtzi, Spain, Visuals – In da Cratz
If there's one thing I would like to suggest for the next edition it would be a little more accessible information on each of the artists, with more regular social media updates. I felt that I had to do quite a lot of leg-work myself to work out who exactly F-On & Urtzi are, but fortunately there's an excellent article by soundofthought, which explains the whole artistic project in great detail. Thanks for clarifying guys!
Lanoche, Spain, Visuals – In da Cratz
Sadly for the organisers of Lapsus, one of their headliners, Karen Gwyer was cancelled at the last minute (we didn't manage to find out why exactly). Though we weren't disappointed with the replacement, Lanoche ('the night' in Spanish) from vinyl-only record label, So Unreal (Madrid) created an interesting fusion between house and techno, which, accompanied by some impressive video footage from In da Cratz, made for a captivating audiovisual performance.
David Cordero, Spain
Next up was a live performance from David Cordero in the CCCB theatre, can only be described as a transcendental trip. Here, despite the visuals (video footage of a beach), the majority of the room were lying on the floor, heads supported by jumpers and coats to enjoy the excellent acoustics of this room and Cordero's artistry.
Donnacha Costello, Ireland
Though you would never guess from the name, Donnacha Costello is from Dublin, Ireland. His performance was perhaps the most lively that we saw in the theatre space, with a very urban feel – his visuals were not that dissimilar to those of Lanoche's, with travelling shots through a night-time city scape in black and white, brought a real urban feel to his music.
We definitely will be checking out the next edition of Lapsus, if not simply to have the opportunity to check out Slurp.tv and Mau Morgó, who unfortunately we missed this time around. Thanks Lapsus for an artistic Saturday experience.
Now I'll simply leave you with the photographic report to enjoy, thanks for reading.
Report by Hayley Cantor (also known locally as VJ AYL)