Vienna, April 28th to May 1st . The Playground AV Festival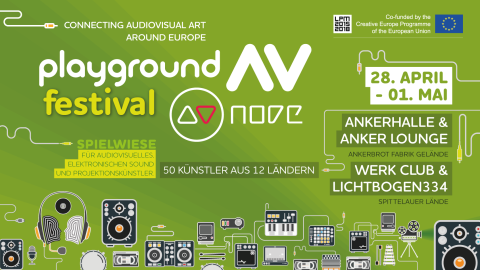 More than 40 national and international artists from 13 European countries will be giving performances, workshops and parties for three days. In addition, the exhibit "Playground Evolution" will be taking place in the Ankerhalle. It focuses on audiovisuell art as well as on live performances that want to be seen, heard and astound. The Playground AV sees itself as a a meeting point to network, learn and experiment. "Bring your toy & get connected" at the Playground AV festival 2016.

Artist
Full program here
Exhibitions
Full program here
Workshops
Full program here
Panel discussions
Talk "AUDIENCE DEVELOPMENT MEETING" by AVnode | LPM 2015 > 2018  28.4. – 19h-22h
How can we succeed cultural institutions , for new target groups to be attractive and relevant? That is the key issue with which the originating from the Anglo-American research and cultural practice concept of " Audience Development " deals . Launched mid 90s expression represents the strategic acquisition, retention and development of public culture of today and tomorrow for cultural institutions and creative industry players . It approaches from the cultural marketing , the culture – PR , visitor research , art education and cultural education used a comprehensive cultural program to bring different audiences closer.
The Playground AV invites in order to find new ways and strategies to audiovisual art to make the Audience Development meeting to a wider audience.
Melanie Wetter (B-SEITE FESTIVAL – MANNHEIM)
Vaclav Kovar (LUNCHMEAT FESTIVAL  – PRAGUE)
Yaniv Tal (PLATTENBANK / LABEL MANAGER)
Henrich Fischer  (LABOR FAMILY / PRODUCER & VERANSTALTER)
Frederick Baker (FILMEMACHER & REGISSEUR,AUTOR VON "THE ART OF PROJECTIONISM")
Geralsd  Herlbauer  (4YYOUREYE PROJECTION ART / PLAYGROUND AV FESTIVAL)
Eva Bischof  (4YYOUREYE PROJECTION ART / PLAYGROUND AV FESTIVAL)
Nadine Abado  (PLAYGROUND AV)
Sebastian Danz (DJ & PRODUCER, UNTERTAGETECHNO)
And do not forget the special After Party of Saturday, 30th April at Ankerhalle, in collaboration with COOH (Position Chrome, PRSPCT, Yellow Stripe – BG)
Full program of the Festival here
Info: http://www.playground-av.com/


This Festival is part of AV/Node 2015 – 2018

AVnode is an international network of artists and professionals organizing festivals and/or working in the fields of audiovisual live performances.