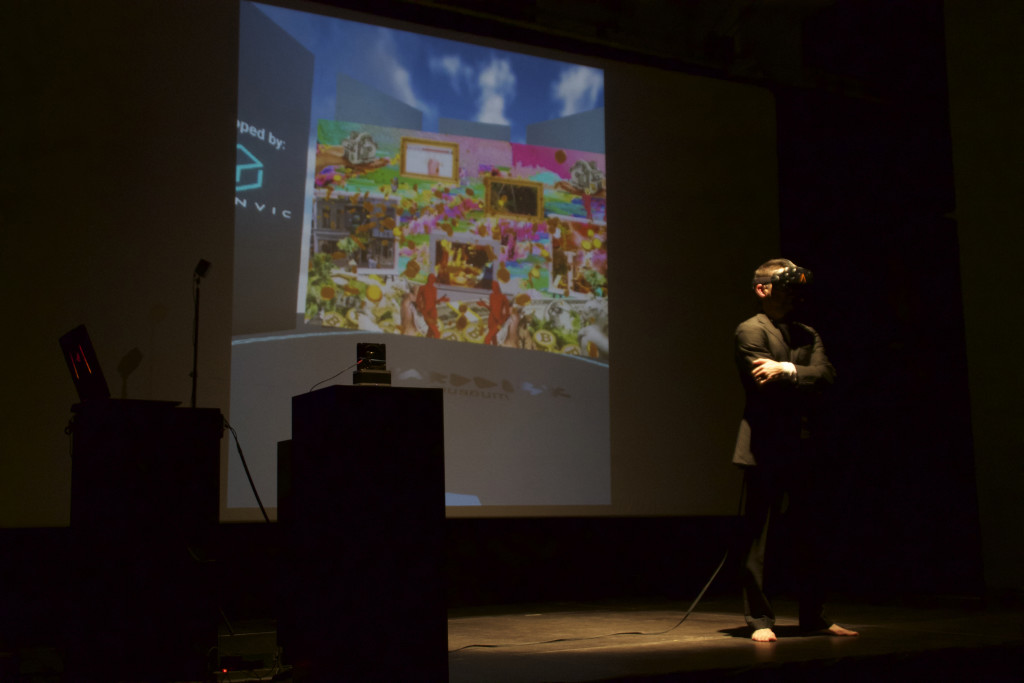 Last tuesday it took place in Arts Santa Monica a virtual reality perfomance done by Solimán Lopez, a multimedia artist, director of the Department of R & D + ESAT (School of Art and Technology of Valencia) and founder of Harddiskmuseum. We had the opportunity to see a digital art museum in virtual reality.
At first, the journalist and art critic Roberta Bosco introduced the event. Then Solimán showed the VR application (File Cabin) designed with VRANVIC. It consists in browsing through the hard disk and expose the contents of this digital art museum that has already been presented in Uruguay, Brazil, Argentina and Spain. The perfomance with a duration of 90 minuts showed concepts as conservation, disclosure and the origin of digital art, archives. Also the digital artist Ricardo Iglesias presented a piece of his work in the virtual museum.
His work has been showed in many places like Veneçuela (Ia Bienal de Arte Emergente), Cuba (Festival de Camagüey), Nicaragua (CCE), México (CCE), El Salvador (CCE), Argentina (MACBA – Buenos Aires, MAC – Bahía Blanca, Palacio Ferreyra – Córdoba, Timoteo Navarro – Tucumán), Suècia (SwitzerlandArtSpace), Pasadena i Chicaco (MIA Festival), Portugal (Au pie de la Montagne Show) o Grècia (Create an Accident) i museus como el CAC de Màlaga, IVAM de València (Tecnometrías i exposició Sustratos), Matadero Madrid, Museo Centro del Carmen (València), Centro Cibeles (Madrid), ICAS (Sevilla), etc.
He has been chosen for Technarte Bilbao, ADA (Archive of Digital Art), Stigmart, Encontro de Novos Artistas, Art Clinic Barcelona, Laguna Award (Valladolid), Tedx (Valladolid), ULad (ICAS, Sevilla), Madatac Madrid, Rei en Jaume (Mallorca), Futura (Huesca), Festival BAC (Barcelona), EspacioEnter (TEA Tenerife), Festival Intramurs (Valencia), Festival ArsFutura, Proyector, UPHO Festival (Málaga) o JustTech (JustMad7, Madrid) entre d'altres.
The museum will be installed at Arts Santa Monica until January 29th for the general public.
http://artssantamonica.gencat.cat/ca/detall/HARDDISKMUSEUM-SHOW-IN-Virtual-Reality