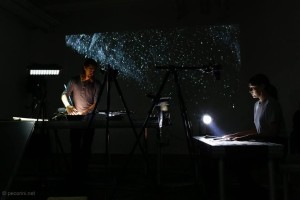 GENEVA, 9-12 May 2018        
The Mapping Festival is a multidisciplinary festival dedicated to digital arts. Every year, it offers a range of events and activities that highlight the artistic potential of new technologies. Each edition is an opportunity to present a bold selection of audiovisual performances, installations and architectural projections. In addition, there are conferences and roundtables, workshops and masterclasses as well as an electronic music program.
Offering a context of diffusion of a scale unique in Switzerland, the Mapping Festival is today recognized as a key event in the world of digital art and a true international reference. The general interest for new technologies and their omnipresence contributes significantly, every year, to broaden and diversify the festival's audiences – both locally and internationally.
The questions raised in the context of the festival concern today a growing number of people, whether they are familiar or not with the technological aspect. The Mapping Festival is thus recognized for its development of the digital artistic avant-garde. Through specialized programming, but always accessible.
Considered as a unique platform of production and diffusion in Switzerland, it also enjoys an international reputation thanks to the quality of its programming and diversity, which aims to encourage emerging artists of the field. It alternates audio-visual performances, installations, clubbing, architectural mapping, as well as workshops and conferences.
The Mapping Festival is also a meeting point, a creative and collaborative platform with an innovative spirit. Over the course of fourteen editions, the Mapping Festival has grown steadily and emerged as one the most important events of its kind in Europe.
Mapping Festival
Avenue Ernest Pictet 28/30
CH – 1203 Geneva
nous@mappingfestival.com
LINK BOX