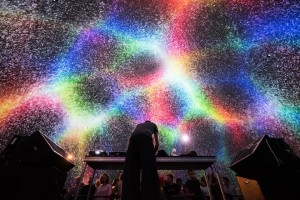 MONTREAL, 22-26 August 2018
Now firmly planted in the verdant, deep of summer, MUTEK Montréal bursts into bloom with its 19th edition, running August 22 to 26 in the heart of downtown.
Since its inception the festival has privileged the presentation of live electronic music and audiovisual performances, underlining the immediacy and ingenuity of contemporary artistic practices that intersect with technology.
This edition adds another focus: women in digital arts and electronic music with a significant representation of female artists in the performance program, along with a special two-day symposium.
Renowned for its exceptional presentation standards and a curatorial approach that draws equally from international and national talent, always aiming to deliver revelation and discovery to festival-goers, MUTEK Montréal continues to operate in a human-scale, community-minded context.
MUTEK is a not-for-profit organization dedicated to the dissemination and development of digital creativity in sound, music, and audio-visual art. MUTEK's principal activity is the annual presentation of its namesake festival, which has taken place in Montreal since 2000.
MUTEK
1201 Blvd. St-Laurent
Montréal, Québec
info@mutek.org
LINK BOX