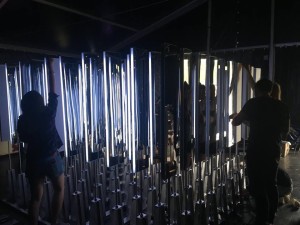 SOFTlab is a design studio based in New York City. The studio was created by Michael Szivos shortly after receiving a graduate degree in architecture from the Graduate School of Architecture, Planning, and Preservation at Columbia University.
The studio has since been involved in the design and production of projects across almost every medium, from digitally fabricated large-scale sculpture, to interactive design, to immersive digital video installations. As the studio adjusted to a wide range of projects, they began to focus less on the medium and style and more on ideas.
As a studio, SOFTlab, embraces projects through a mix of research and ideas. On one hand, the studio is invested in projects that require significant research and experimentation. These projects provide a testing ground for us to help germinate a studio environment that is ripe with creativity.
Through the studio's unique blend of backgrounds as designers, artists, architects, and educators we are able to approach every project from a fresh perspective to create rich spatial, graphic, interactive and visual experiences. By mixing research, creativity, and technology with a strong desire to make working fun, SOFTlab attempts to create new and unique experiences.
LINK BOX