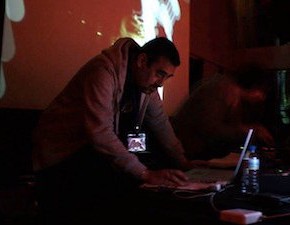 Joseph Alvarez aka Hipnosia, has a degree in Art History and Fine Arts from the University of Barcelona. He ​​has developed his work as an artist in the 90's and  had numerous solo and group exhibitions in Barcelona.
From 2001, due to the expressive possibilities of new media art he changes its support  firstly from the digital image to video-creation and and then to video in real time.
Since 2002 he works in the field of videoart, visuals and live cinema. Together with José + , producer, musician and dj found the collective KTK-lab video, making his presentation in the DAF in Barcelona in 2005.
He also created visuals for musicians of various netlabels like: Fromm, Spowek, Compütah, Hermetic, Experimental feelings, Tanox, Nigul. He has created with the musician and producer James Muntsant Phobia, an audio and video project  of dark ambient music and visuals that reflects upon the dark world of fear, terror and dreams.
hipnosia@gmail.com
LINK BOX