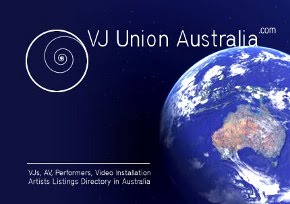 VJ Union Australia is a networking and marketing platform for practising video and multimedia performing artists in Australia with aim to promote, educate and market VJ arts and Artists throughout Australia and on International stage.
Vj Union Australia has been established by Grigori Korotkikh / (vj) vdmo Kstati. Purpose:
– Promotion of VJs performing in Australia Locally and Internationally.
– Establishing and Working Towards Sustainable VJ arts practise for Individual Artists and Growth of VJing as an Art form in Australia & Globally.
– Building and Maintaining International Exchange programs with VJ's throughout the World
– Promotion of VJ related Practise Arts and Technology through online publishing Media.
– Open Register for Australian Practising VJs and Multimedia performing Artists and Collectives. This register is also open to International Artists and Collectives who are looking to perform or Currently performing in Australia.
Contact  
http://www.vjunionaustralia.com/contact/
LINK BOX