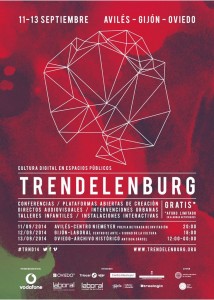 Gijón, September 11-13 2014
Trendelenburg is a live platform focused to spread postdigital audiovisual creations. The main event is a free annual meeting to be held in public spaces in the city of Gijón, Asturias.
The edition 2014 consists in a series of activities taking place from 11 to 13 September in Avilés, Gijón and Oviedo. These activities aim to cover the three identified target: New audience, artists and specialized audience, cultural managers.
This edition has the theme "Ubiquity" mobile devices as a viewer for change. Mobility has become central in our lives, ubiquity is something more natural every day. This theme will connect all the proposals at Trendelenburg 2014
Trendelburg
Gijón, España
hello@trendelenburg.org
LINK BOX