#9July  #MexicoCity  // CICLO translated as " CYCLE", it's a new project of Audiovisual Experiences, created with the idea to show audiovisual works and visual projects , creating a bridge between México and the international scene of A/V projects.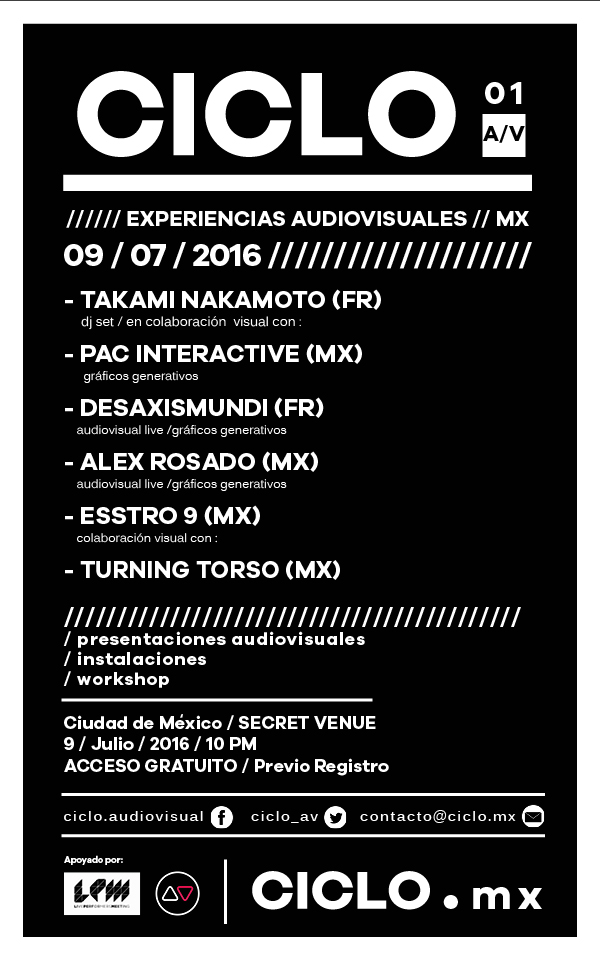 CICLO has national and international audiovisual artists who explore the latest trends in technology, visual and sound , oferring proposals in spaces designed especially to create unique experiences through interactive installations, video and lighting to create envrionments and experiences in a context of music and fun.
Sessions CiCLO are closer to the artists most recognized in Europe, thanks to the international networks of audiovisual festivals like LPM and AV node. CICLO will be presenting renowned artists and projects in Mexico, seeking closer collaboration of Mexican projects abroad.
CICLO is focused on experimental media arts and new visual and sound trends, focusing on projects that develop work in:
– Real-time Video and Computer graphics
– Multimedia and Interactive Design –
– Training in Art, Technology & Audiovisual Culture-
// TECHNOLOGY AND NEW MEDIA ///////////////////
CICLO is a cultural project which has as antecedent to BINARIO [INTERNATIONAL FESTIVAL OF ART, TECHNOLOGY AND CULTURE OF NEW MEDIA] since 2011 in México. BINARIO has shown the work of electronic and audiovisual Mexican artists, and the most relevant of the Mexican scene with a solid foundation in cultural networks and within communities in art, technology and media in Mexico.
CICLO seeks to bring national and international artists doing workshops to promote the development of new projects and cultural exchange, promoting the presentation of Mexican projects abroad.
//////////////////////////////
//CICLO A/V 01 ////////////
///////// 9 July 2016////////
——-desaxismundi /// A/V LIVE
——–alex rosado /// A/V LIVE
——— esstro9 /// LIVE VISUALS
–pac interactive /// LIVE VISUALS
— turning torso /// DJ SET
–takami nakamoto //// DJ SET
//SECRET WAREHOUSE LOCATION//
Like part of this audiovisual experiencie #desaxismundi it's giving a workshop on July 4 – 7 , with 20 hours of technics of "video mapping & multimedia development #vvvv" a must do !! for the audiovisual creators who likes to explore deeeper the capabilities of creative computing and visual development.
https://www.facebook.com/events/478797568980832/