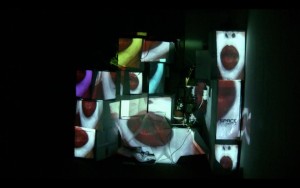 Olsztyn, November 2-5 2017
SPACE VJ MEETING – international meeting for new visual media artists. This time it' s Poland-Japan cooperation!
The aim of the meeting is to create space where artists can share knowledge and friendship, promoting digital audiovisual culture . SVM strongly supports the development of new technologies.
During the few-day expo VJing, fulldome projections, live video, workshops, presentations and interactive installations will be featured. Come to learn, teach, share, talk, create new connections and build crazy structures (for 3D mapping).

SPACE VJ MEETING is a project supported by artists, produced by VJs for other VJs. place where VJs from all over the world can gather and connect to each other. Organizers: VJ from Poland (Jaroslaw Balabanski-VJ DIABLOS) and VJ from Japan (Toshikazu JaySon Toyama- VJ Sinarisama).
Space Vj Meeting
Planetarium, Żołnierska 13a, 10-558
Olsztyn, Poland
lostdiablo@o2.pl
LINK BOX