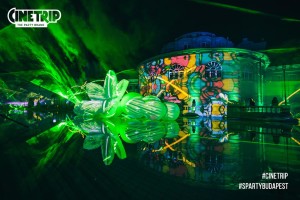 BUDAPEST, September to December every Saturday 
Cinetrip is a must see bath party held in Széchenyi Bath twice a year. The summer edition is in August, the winter edition is around New Year's Eve.
Sparty event series has been running for more than twenty-two years and now it is one of the most frequented events of the Hungarian capital with 50-55 thousand visitors annually (from 165 different countries).
Sparties are held almost all weekends of the year in either Lukacs or Szechenyi Bath, however, there are two occasions each year to take part in the outstanding musical and visual experience of Cinetrip Sparties.
From the world famous castle district to the endless maze of ruin pubs, there is no doubt that Budapest will serve to amaze and inspire all that choose to visit. There is but one party experience that stands tall above the rest. One experience that has never been, and will likely never be offered anywhere else on Earth.
Cinetrip
51/B. Üllői út, 1091 Budapest
info@cinetrip.hu
LINK BOX