Junichi Akagawa is a Kyoto-based audiovisual artist and programmer.


He is constantly seeking new means of artistic expression to enhance the audience's synesthetic experience.



He performed in the collaborative event presented by MUTEK.JP and the 22nd Japan Media Arts Festival last year.

Akagawa has recently premiered "Geist on the lake" (filmed and recorded in a hidden lake in Kyoto) at MUTEK Montreal 2020.


Through this intriguing audiovisual performance, he questions the Internet as a medium to share and archive "truth" and "reality". I enjoyed how he illustrated his point through the ambiguous nature of the performance – it wasn't quite clear whether he was ever "really" in the lake.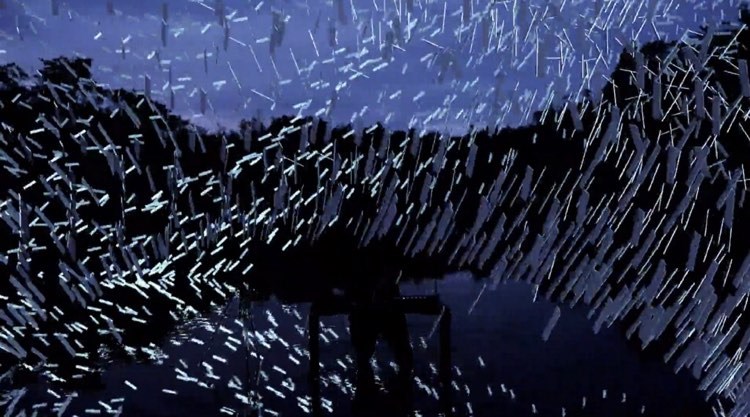 "Geist on the Lake"

If a tree falls in the forest but there is no one to witness it, did it really fall? If there is sound but no one to listen to it does it really exist? Within Geist on the Lake Junichi Akagawa explores the question of truth as a relational matter. Captured at a hidden lake on the outskirts of Kyoto, a place without any real connection to the outside world, Akagawa asks the question, did he really perform, if there was no one to witness his performance? Does a mere recording of a performance really constitute the truth that a performance did indeed take place? Through these questions Akagawa critically approaches the current age of increased online streaming activities and the related questions of the internet as a medium, as an archive, and what constitutes truth in the virtual world.

On "Geist on the Lake" – Junichi Akagawa
He has produced and released his own music through labels such as Hz-records or Shrine.jp, and presented his audiovisual work through many screenings, live performances and installations across Japan and abroad.

The multidisciplinary artist is also part of the creative collective 1-10 (one to ten) formed by almost 200 creative professionals with a diverse background. Their aim is to work on bringing innovation to today's society through creativity and advanced technology.
The artist is currently participating in Jeep Japan's Real Hybrid e-creators campaign in collaboration with MUTEK.JP. Until the 4th of October you can vote the audiovisual works presented by 7 artists, including Akagawa's shown below. The theme is "New freedom and adventures", and jury members include Hiroaki Umeda.


Website | Twitter | Facebook | Instagram | SoundCloud