Amelie Duchow is an experimental artist delivering audiovisual experiences fed by her roots in early minimal techno music


Her profound influence and involvement in the early German Techno scene can be felt throughout her career as an artist.




She left Munich in 2003 and landed in Florence where she joined the Italian label Suite inc. Since then, she would present her slow, atmospheric electronic music through many DJ sets and live mixes at local festivals and venues.


The minimal, immersive sounds of her music have filled contemporary art spaces such as Casa Masaccio in Rome or Nottingham Contemporary.





Amelie has been collaborating with Marco Monfardini through the artistic Italian/German exchange project SCHNITT, born in 2007 as a result of their common interest for experimental minimal sound and visuals.


The duo have presented their audiovisual work in various formats, from artwork installations in museums and art centres to live performances in digital arts festivals and events.


Some of the exhibited artworks include Airloop 1.0 and MemoryCam, using original unreleased film material from the 40s up to the 80s as visuals.




SCHNITT's referential A/V project TONSTICH first appeared in 2013. It has been presented as a live performance across various festivals and venues such as Palazzo Strozzi in Firenze, Munich Fabric Start or lab 30 in Augsburg. We had the chance to enjoy the performance at Live Cinema Festival this year.



As we have noted in our Live Cinema Festival 2020 report, Amelie's A/V performance takes us through an abstract journey through of a textile making process her background in fashion and minimal techno.





The sharp sounds of scissors tearing off pieces of thick fabric and the mechanical stitching noises that follow in the dress creation process serve as the sewing pattern of her LP TONSTICH. The heavy atmospheric sounds, spatial vocals and rhythmic beeping are blended in seamlessly. 

During my research on Amelie's work, I was happy to find out she was featured on the platform female:pressure.
It is a growing international network for women+ trans and non-binary artists in the fields of electronic music and digital arts, founded by Electric Indigo back in 1998. 
Wondering why this (slightly) random fact is concluding this article? I guess after learning about Amelie's timeless precious work, I was inspired to share the importance of highlighting the strong presence of female artists and other underrepresented minorities contributing to the (digital arts) world.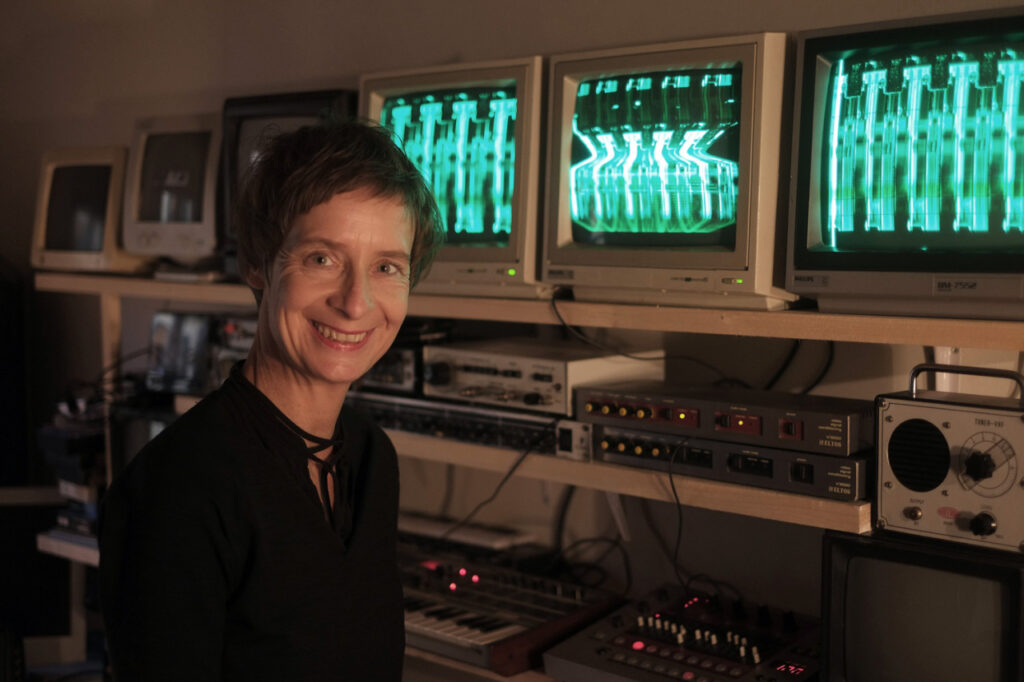 FIND OUT MORE ABOUT THE AUDIOVISUAL ARTIST
LEARN MORE ABOUT THE PROJECT SCHNITT
Cover photo credits Rachele Salvioli